You have finally decided that you are ready to quit smoking. You've made the decision to help yourself and you know for sure that you definitely want to quit for good. It seems so easy to stick a patch on your arm, or take a pill, and BOOM no more cravings to smoke. That sounds nice and all, but have you ever looked into the side effects of these methods? Psychosis, seizures, depression, and even suicide attempts are just a few of the nasty side effects.
If you ask me, these medications are just as bad for your health as smoking a cigarette. That's saying something, since smoking increases the risk of at least 50 different medical problems, from cancer and heart disease to emphysema and strokes. Well you're in luck, because there is a natural easy and effective way to stop smoking, and it's called hypnotherapy. Stop smoking hypnosis has been around for more than 30 years and people mostly used hypnosis to stop smoking in the earlier days whereas nowadays, hypnosis is used for many more issues than smoking.
Positive Side Effects of Quitting Smoke
Consciously you want to stop, you know it is terrible for your health, and you just don't want to do it anymore. Subconsciously you still associate smoking with pleasure or relief. During a session of hypnosis to stop smoking, we would first help your subconscious mind to fully understand and feel the negative side effects of smoking versus the positive side effects of quitting. So the next time you think about picking up a cigarette you will immediately feel the negativity associated with it instead of the old pleasure or relief.
Is It Really Hard to Stop Smoking?
After that, if you still want to smoke, then we would take a deeper look into those cravings, and work with them at a subconscious level in order to get you on board with quitting. While all of this is being done, there will also be subconscious programming that will lead you to unconsciously want to not smoke anymore, as well as giving your body suggestions to regenerate and heal.
Hypnotherapy Can Help Quit Smoking Naturally
Using hypnotherapy to stop smoking, you can also benefit other areas of your life at the same time you are quitting smoking for good. For example, we can work on your stress levels, cravings for food that causes weight gain, sugar cravings and other underlying issues that you placed in the background for many years as you used smoking to cope with these different stresses.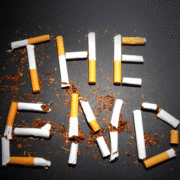 Stop smoking hypnosis is effective, easy, and natural. The only catch is you have to want to do it. But why wouldn't you want to live a long and healthy life surrounded by friends and loved ones? So call us at Healthy Living Hypnosis now to schedule your hypnotherapy to stop smoking appointment today!